Suzanne obtained her PhD from the world-renowned Paterson Institute for Cancer Research and the Christie Hospital in Manchester where she examined the potential toxic side-effects of chemoprotective gene therapy. This work was a collaborative effort with what was at that time the AstraZeneca Central Toxicology Labs at Alderley Edge.
Following this training period Suzanne moved to a research post at the Babraham Institute in Cambridge where under the guidance of Dr Denis Alexander she began to investigate mechanisms of Lymphomagenesis, a subject that she has pursued to become a world-expert in paediatric lymphomas, specifically Anaplastic Large Cell Lymphoma (ALCL). Since 2005, Suzanne has been leading an academic research group at the University of Cambridge within the Department of Pathology and based at the Addenbrooke's Hospital campus in Cambridge. It is here that Suzanne conducts academic research of an international standard and also teaches and examines aspects of the medical, veterinary and natural science tripos. Suzanne is also the director of postgraduate education in the Department of Pathology.
In 2007, Suzanne was awarded the prestigious Leukaemia and Lymphoma Research (LLR; now Blood Cancer UK) Bennett Fellowship and in 2012 a further 5-year LLR senior lectureship award. Amongst her achievements are the inception and establishment of the European Research Initiative on ALCL, a study group that brings together scientists from across Europe to foster collaboration and advancement in this important area of health research. Suzanne was also the lead of 'ALKATRAS', a European Union Marie Curie Innovative Training Network of 14 research groups in 7 EU countries and is currently non-clinical chair of the European Inter-Group for Collaboration into Childhood Non-Hodgkin Lymphoma (EICNHL), co-chair of the Cancer Research UK (CRUK) Cambridge Centre Paediatric Programme and biological lead for the National Cancer Research Institute (NCRI) paediatric lymphoma Clinical Study Group (CSG). Suzanne collaborates with a wide array of scientists and labs around the world, most notably the Uganda Cancer Institute in Kampala with whom she is working towards finding better therapies for children with cancer.
Amongst her other interests Suzanne is the scientific advisor to the Alex Hulme Foundation and Francesca Richardson Trust. She is also a member of both the American and British Associations for Cancer Research (BACR/AACR), the Children's Cancer and Leukaemia Group (CCLG) in the UK and the International Society for Paediatric Oncology (SIOP). Suzanne also sits on the scientific committee of SIOP, the MHRA plastics, reconstructive and aesthetic surgery (PRASEAG) committee and the European Commission's Scientific committee on Health, Environmental and Emerging Risks (SCHEER) working group on breast implants and cancer. In addition, she is a member of the international grant review panels of the World Cancer Research Fund and the Swedish Research Council's medicine and health review panel.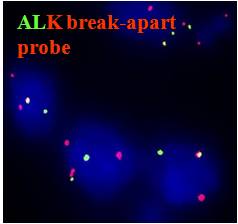 In our lab, we investigate the pathogenesis and aetiology of paediatric cancers towards the development of biomarkers to facilitate kinder, less toxic and novel therapeutic approaches.
Mechanisms of Lymphomagenesis
Lymphoma is a heterogeneous disease class consisting of greater than 40 different sub-types and the incidence of this disease has been increasing year on year. In our research we are making progress towards understanding how and why lymphoma develops and hence in the development of new treatments. We investigate a paradigm of lymphomageneis in which a chromosomal translocation leads to the generation of an oncogene and subsequent presumed transformation of T-cells. The oncogene we work with is Nucleophosmin-Anaplastic Lymphoma Kinase (NPM-ALK), a hyperactive tyrosine kinase generated as a result of a translocation between chromosomes 2 and 5. This event is associated with greater than 90% of cases diagnosed as anaplastic large cell lymphoma (ALCL), a mature T-cell malignancy mainly occurring in paediatric patients. Our research aims to unravel the events leading from the t(2;5) to lymphoma. We use a variety of experimental approaches to reach this goal.
Understanding drug resistance in paediatric cancers
We are also developing a resource of patient derived xenografts of paediatric lymphoma, specifically ALCL and Burkitt lymphoma as well as neuroblastoma. Applying these models, our lab is conducting research to experimentally-induce relapse in an effort to understand clonal evolution of tumour cell growth. With this knowledge in hand, our lab then applies high-throughput drug screens and sequencing approaches to develop novel therapeutic regimens. Alongside, this research activity, we also employ CRISPR/Cas9 screens for the identification of putative mechanisms of drug resistance employing cell lines.
Comparative analysis of endemic and sporadic Burkitt lymphoma
Our lab works together with Jackson Orem at the Uganda Cancer Institute in Kampala, Uganda in an effort to understand the aetiology and pathogenesis of Burkitt lymphoma with a particular emphasis on tumour clonal evolution with treatment. This aspect of our research is supported by Cambridge Africa.
Breast implant associated anaplastic large cell lymphoma (BIA-ALCL)
The most recent addition to the family of ALCL is a form of cancer associated with the presence of textured breast implants. Given our 20 years of experience of working towards understanding the pathogenesis of ALCL, we have turned our attention to unraveling the mechanisms that drive this specific form of cancer.
Group Members:
Jamie Matthews 
Perla Pucci
Lucy Hare
Emily James
Gill Currie
Chris Steele
Carla Vazquez Amos
Rogier ten Hoopen
Marta Ferraresso
Swetha Kannan
Leila Jahangiri
We collaborate with Dr Amos Burke, a paediatric oncologist at Addenbrooke's hospital in Cambridge
Key publications:
A full list of publications can be found via ORCID ID: https://orcid.org/0000-0002-8439-4507
Auke Beishuizen*, Karin Mellgren*, Mara Andrés, Anne Auperin, Chris M. Bacon, Simon Bomke, G. A. Amos Burke, Birgit Burkhardt, Laurence Brugieres, Alan K.S. Chiang, Christine Damm-Welk, Emanuele d'Amore, Keizo Horibe, Edita Kabickova, Tasneem Khanam, Udo Kontny, Wolfram Klapper, Laurence Lamant, Marie-Cecile Le Deley, Jan Loeffen, Elizabeth Macintyre, Georg Mann, Friederike Meyer-Wentrup, Ulf Michgeh, Veronique Minard-Colin, Lara Mussolin, Ilske Oschlies, Catherine Patte, Marta Pillon, Alfred Reiter, Charlotte Rigaud, Leila Roncery, Itziar Salaverria, Ingrid Simonitsch-Klupp, Anne Uyttebroeck, Jaime Verdu-Amoros, Denise Williams, Wilhelm Woessmann, Andrew Wotherspoon, Grazyna Wrobel, Martin Zimmermann, Andishe Attarbashi* and Suzanne D. Turner* (2022) Improving outcomes of childhood and young adult non-Hodgkin lymphoma (NHL); twenty-five years of research and collaboration within the framework of the European Intergroup for Childhood Non-Hodgkin Lymphoma (EICNHL). Lancet Haematology in press
Perla Pucci, Liam Lee, Miaojun Han et al. Targeting NRAS via miR-1304-5p or farnesyltransferase inhibition confers collateral sensitivity to ALK inhibitors in high-risk neuroblastoma, 07 November 2022, PREPRINT (Version 1) available at Research Square [https://doi.org/10.21203/rs.3.rs-2167328/v1]
Jaques van Heerden, Joyce Balagadde-Kambugu, Racheal Angom, Rebecca Claire Lusobya, Guillermo Chantada, Laurence Desjardins, Ido Didi Fabia, Trijn Israels, Vivian Paintsil, Laila Hessissen, Mame Ndella Diouf, Moatasem Elayadi, Suzanne D. Turner, Francine Kouya and Jennifer A Geel (2022) Determining the baseline survival outcomes of the 'six Global Initiative for Childhood Cancer index cancers' in Africa. Paediatric Haematology and Oncology, https://doi.org/10.1080/08880018.2022.2140860
Okello, C.D., Niyonzima, N., Ferraresso, M., Kadhumbula, S., Ddungu, H., Tarlock, K., Balagadde, J., Omoding, A., Karagu, A., Mwaiselage, J., Harlan, J.M., Uldrick, T.S., Turner, S.D.* and Orem, J.* (2021) Review Series on Priorities in Haematological Care in Sub-Saharan Africa (SSA), Blood Cancers. Haematological Malignancies (HMs) in Sub-Saharan Africa (SSA): East Africa as an exemplar for Improving Care in the Region. Lancet Haematol. 2021 Oct;8(10):e756-e769. doi: 10.1016/S2352-3026(21)00198-8.
Forde, S., Matthews, J.D., Jahangiri, L., Lee, L.C., Malcolm, T.I., Bell, N., Bomken, S., Burke, G.A.A., and Turner, S.D. (2020) Paediatric Burkitt lymphoma patient-derived xenografts capture disease characteristics over time and are a model for therapy, British Journal of Haematology, http://dx.doi.org/10.1111/bjh.17043
Prokoph, N., Probst, N.A., Lee, L.C., Monahan, J.M., Malik, V., Liang, H-C., Sharma, G.G., Montes-Mojarro, I., Mota, I., Larose, H., Forde, S.D., Imamoglu, R., Matthews, J.D., Trigg, R., Ceccon, M., Ducray, S.P., Lobello, C., Janikova, A., Gambacorti-Passerini, C., Pospisilova, S., Kenner, L., Klapper, W., Jauch, R., Woessmann, W., Chiarle, R., Mologni, L., Merkel, O., Brugières, L., Geoerger, B., Barbieri, I., and Turner, S.D. (2020) Inflammatory networks drive resistance to drugs in ALCL, ALK+; the IL10R is up-regulated in response to consistent exposure to ALK inhibition. Blood, 136(14):1657-1669. doi: 10.1182/blood.2019003793. Selected for a commentary written by the reviewer. Chosen for journal cover image
Larose, H., Prokoph, N., Mian, S., Nuglozeh, E., Fazaludeen, F.M.S., Elmouna, A., Ashankyty, I., Mologni, L., Gambacorti-Passerini, C., Ming-Qing Du1, Hoefler, G., Pospisilova, S., Woessmann, W., Blundell, T., Ali., Damm-Welk, C., Fedorova, A., Lamant, L., Schlederer, M., Kenner, L., Merkel O. and Turner, S.D (2020) A novel mutation in Notch1 contributes to the pathogenesis of ALCL. Haematologica, haematol.2019.238766. doi: 10.3324/haematol.2019.238766
Trigg, R.M.,* Lee, L.C.,* Prokoph, N.,* Jahangiri, L., Reynolds C.P., Burke, G.A.A., Probst, N.A., Han, M., Matthews, J.D., Lim, K.K., Manners, E., Martinez, S., Pastor, J., Blanco-Aparicio, C., Merkel, O., Garces de los Fayos Alonso, I., Kodajova, P., Tangermann, S., Högler, S., Luo, J., Kenner, L.* and Turner, S.D.* (2019) PIM1 inhibition enhances the sensitivity of high-risk aberrant ALK-expressing neuroblastoma to ALK inhibition regardless of MYCN status. Nature Communications, DOI: 10.1038/s41467-019-13315-x. This publication was highlighted as an 'editor's choice' in Science Translational Medicine: Joan Montero, (2019) A new hope for neuroblastoma treatment?
Other publications:
Turner, S.D. (2019) Anaplastic Large Cell Lymphoma: chapter in Non-Hodgkin Lymphoma in Childhood and Adolescence, Springer International Publishing DOI: 10.1007/978-3-030-11769-6, eBook ISBN: 978-3-030-11769-6, Hardcover ISBN: 978-3-030-11768-9
Final Opinion on the safety of breast implants in relation to anaplastic large cell lymphoma. SCHEER WG on the safety of breast implants in relation to anaplastic large cell lymphoma (BIA-ALCL). SCHEER members: Wim H De Jong (Chair), Demosthenes Panagiotakos (Rapporteur), Ana Proykova, Theodoros Samaras. External experts: Mark Clemens, Daphne De Jong, Ingrid Hopper, Hinne Rakhorst, Fabio Santanelli di Pompeo, Suzanne Turner. On request from: European Commission, Adopted on: 26 March 2021
https://ec.europa.eu/health/scientific_committees/scheer/opinions_en?fbc...
Teaching:
Organiser Part 1B Biology of Disease medical and veterinary science tripos/Natural sciences tripos (MVST/NST) course October 2014-2019 
Cambridge University, Department of Pathology Natural Sciences Tripos Part II 'modelling cancer in vivo'
Cambridge University, Department of Pathology Part 1B (second year) Biology of Disease course x 3 lectures on cancer biology to ~450 students
Lecture on paediatric cancer research to the MRes CRUK Cambridge cancer programme
Organiser Part 1B histopathology practical classes October 2013-October 2015
Leading and demonstrating the part 1B natural science tripos and MVST practicals and problem-solving exercises (histology based; immunology, cancer and other diseases), Cambridge University.
Research supervision:
Current and past graduate students
| | | | |
| --- | --- | --- | --- |
| Name | Funding body/Course | Years of study | Position on leaving my lab |
| Alisha Burman | NIHR academic clinical fellow | 2021 | Clinical training |
| Emily James | MRC DTP | 2021-2025 | N/A |
| Lucy Hare | CRUK Cambridge Centre clinical PhD fellowship | 2020-2023 | N/A |
| Mun Liew | Children's Cancer and Leukaemia Group | 2018-2021 | Postdoc. Hong Kong |
| Jamie Matthews | Alex Hulme Foundation PhD | 2017-2022 | Postdoc. Turner lab |
| Nina Prokoph | EU Marie-Curie ALKATRAS ITN | 2016-2020 | PostDoc at DKFZ German Cancer Research Center and Heidelberg University Hospital |
| Stephen Ducray | EU Marie-Curie ALKATRAS ITN | 2016-2020 | Strategy and Business Consulting for Bayer's R&D sector |
| Hugo Larose | Department Centenary Fund PhD Studentship | 2015-2019 | Pharmaceutical consulting |
| Sorcha Forde | Alex Hulme Foundation PhD | 2014-2018 | Pharmaceutical Consulting |
| Liam Lee | CRUK PhD | 2013-2017 | Merck – Director of medical affairs, oncology |
| Camilla Fairbairn | BBSRC PhD | 2013-2017 | Postdoc., Black Belt Therapeutics |
| Gavin Garland | BBSRC PhD | 2010-2014 | Research Associate, MRC Toxicology Unit, Leicester |
| Timothy Malcolm | LLR PhD | 2009-2013 | Postdoc., Kudos, Cambridge |
| Bola Hanna | MSc, University of Ulm, Germany | 2011 | PhD, Heidelberg |
| Naushad Moti | Pakistani Higher Education Commission PhD | 2008-2012 | Research Associate, Duke-NUS, Singapore, Prof. David Virshup |
| Suzanne Rigby | MRC PhD | 2006-2009 | Senior Scientist, GSK |
| Fiona McDuff | Wellcome Trust PhD | 2006-2009 | Research Associate, University of Cambridge, Prof. Gerard Evan |
| Catrin Youssif | MSc, University of Vienna, Austria | 2008-2009 | PhD, Barcelona |
Chair of graduate education of the department of pathology
Fellow Hughes Hall
Executive committee member and co-lead paediatric programme, Cambridge Cancer Centre
Coordinator FANTOM Marie Curie Doctoral Training Network
Coordinator ALKATRAS Marie Curie Innovative Training Network (www.alkatras.erialcl.net)
Biological studies lead, NCRI paediatric lymphoma clinical studies sub-group
Chair of the European Research Initiative for ALK-related malignancies (ERIA; www.erialcl.net)
Co-chair European Inter-group for Childhood Non-Hodgkin Lymphoma (EICNHL)
Member the MHRA plastics, reconstructive and aesthetic surgery (PRASEAG) committee and the European Commission's Scientific committee on Health, Environmental and Emerging Risks (SCHEER) working group on breast implants and cancer
Member of the grant panel of the Swedish Research Council's medicine and health review panel
Member of the international grant panel of the World Cancer Research Fund
Member of the scientific committee of the International Society for Paediatric Oncology (SIOP) 
Scientific advisor to the Alex Hulme Foundation and Francesca Richardson Trust
Chief scientific advisor to Melior Capital Management 2020-
Invited member of the Continuous Update Project (CUP) mechanisms Expert Committee, Worldwide Cancer Research Fund Network, 1st February 2022 - 31st January 2025.
American Association of Plastic Surgeons 2022 Expert Consensus Panel on BIA-ALCL, 2022
Children's Cancer and Leukaemia Group (CCLG) Biological Studies Steering Group (BSSG)
Invited member of the University of Padova PhD collegium