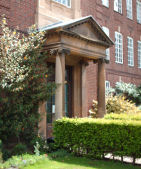 The Department of Pathology is one of the largest Departments in the School of Biological Sciences . Its research mission is: 
"To determine the causes, analyse the effects, and develop means for the early detection and improved management of diseases of medical and social importance". 
In the 2008 Research Assessment Exercise the Department staff featured in 5 Units of Assessment, due to the breadth of the Department's interests. The Department's submission contributed to over half of the University's submission to the Infection and Immunology Panel and a third of the submission to the Cancer Panel. Between 35% and 45% of the profile of these submissions was graded as 4* (world-leading), and 80% – 85% in 4* plus 3* (internationally excellent or higher). All were ranked either first or second in the UK in the Times Higher Education analysis of these profiles. In the Teaching Quality Assessment of 2000, the last year in which comprehensive rather than selective teaching assessments were carried out in UK Universities, Pathology was grouped with the Departments of Biochemistry and Genetics in the Molecular Biosciences Unit of Assessment and scored 24/24.