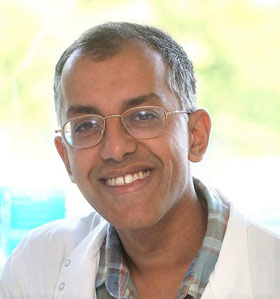 We are delighted to welcome Dr Rahul Roychoudhuri to the Department of Pathology from June 1st, 2020.
Rahul will join the Division of Immunology as Senior Lecturer. His research focus will be on the regulation of immune responses, especially as controlled by regulatory T cells.
He will also become Director of Studies at St Catharine's College. His position generously supported by the Trinity Scheme for Joint Lectureships.
Rahul studied Natural Sciences at the University of Cambridge and Clinical Medicine at King's College London. After completing Clinical Academic Foundation Training in London, Rahul undertook a Ph.D. in Dr Gary Nabel's laboratory at the US National Institutes of Health (NIH) and a postdoctoral fellowship at Dr Nicholas Restifo's laboratory at the US National Cancer Institute (NCI). In 2015 Rahul was jointly awarded a Sir Henry Dale Fellowship by the Wellcome Trust and The Royal Society which enabled him to return to the UK and establish a very productive research group at the Babraham Institute. In 2017 Rahul was awarded a Lister Institute Research Prize.
You can read more about his research at the following links:
https://www.path.cam.ac.uk/directory/rahul-roychoudhuri
Rahul's most recent research defines the function of a genetic enhancer sequence that controls immune regulation has just been published online in Nature.
You can read more about this article here:
https://www.babraham.ac.uk/news/2020/05/uncovering-how-dark-matter-regions-genome-affect-inflammatory-diseases