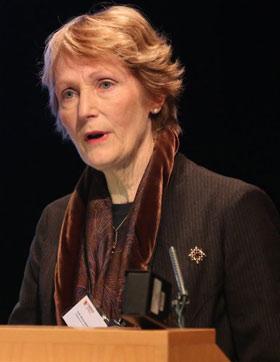 Professor Ashley Moffett has been elected a Fellow of the Academy of Medical Sciences in recognition of her pioneering work on the placenta and reproductive immunology.
Ashley Moffett is the foremost international authority and investigator of the immunology of human reproduction. She began her career as a practising doctor, specializing in histopathology. During this time, Ashley identified a population of immune cells in endometrium that is not present in any other organ. She consulted with Prof. Charlie Loke, a reproductive immunologist in this Department, and her experiences of research led her to switch careers and pursue basic science.
The cells turned out to be an unusual population of uterine Natural Killer (uNK) cells involved in placental development. In a sustained programme of research she characterised their structure, phenotype, poor cytolytic activity compared to peripheral blood NK cell counterparts, hormonal dependence during the menstrual cycle, origin and recruitment to the implantation site. She was the first to describe the unique pattern of HLA class I expression on human trophoblast (HLA-G, HLA-E and HLA-C), which differs markedly from somatic cells and her work defined the NK receptors that recognise these cognate trophoblast HLA class I ligands.
Her passionate search for answers to understanding maternal-fetal interactions in the placental bed that result in a successful pregnancy has led to seminal findings published in esteemed journals, most recently in Nature, and countless invitations to speak at prestigious conferences. She is actively involved in revoking the erroneous belief that the immune cells can be responsible for rejection of the fetus during pregnancy, as well as promoting research in African obstetrics. Her mentorship is exemplary, with numerous lab members having gone on to establish their own research groups.
Ashley's story is an inspirational one, and she is absolutely deserving of this recognition.  We congratulate her most warmly.