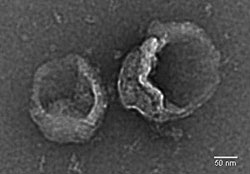 Guidelines for 'future-proofing' blood samples in biobanks and prospective clinical trials
A set of important guidelines to help laboratory studies using blood samples has been published by researchers at the University of Cambridge and Addenbrooke's Hospital.
Published today in the journal Cancer Epidemiology, Biomarkers and Prevention, the guidelines will assist other researchers who are trying to identify and measure levels of genetic markers (nucleic acids) in the bloodstream of patients.
Quantifying circulating levels of nucleic acids is an important new approach to cancer diagnosis and monitoring. One group of molecules showing potential as cancer biomarkers are microRNAs. However, microRNA measurements have been difficult to compare between different cancer types. This is because of technical factors that vary between blood samples before they are analysed in the laboratory, such as the type of blood collection tube used, the type of fluid extracted from the blood (serum or plasma) and the time between taking the blood sample and processing it. These factors can mask any true differences between samples.
The University researchers compared the suitability of serum and plasma for measuring microRNAs. In addition, they assessed how variables that can affect quantification of circulating tumour DNA (ctDNA - another type of circulating nucleic acid) in plasma also influence microRNA levels. They showed that plasma samples prepared for ctDNA extraction were not well suited for microRNA quantification and required multiple corrections to allow reliable interpretation of the data. For future studies designed to measure both microRNAs and ctDNA, they identified that the best approach would be to obtain both serum (for microRNAs) and plasma (for ctDNA).
Lead author Dr Matthew Murray from the Department of Pathology, University of Cambridge said: "Many researchers are currently collecting blood samples for future studies, but are unaware of the very substantial impact that these variables have on microRNA levels. Our recommendations will help 'future-proof' clinical studies in which quantification of circulating microRNAs is a component."
"The guidelines are an important step to try and standardise future studies" added senior author Professor Nicholas Coleman, also from the Department of Pathology, University of Cambridge. "This should lead to faster and more reliable identification of cancer biomarkers and, ultimately, offer great benefit for patients."
Reference
Murray, MJ et al. 'Future-proofing' blood processing for measurement of circulating microRNAs in samples from biobanks and prospective clinical trials. Cancer Epidemiology, Biomarkers and Prevention; 5 Feb 2018; DOI: 10.1158/1055-9965.EPI-17-0657