Brigitte Askonas, widely known as Ita, was a leading figure in modern immunology, whose work made fundamental contributions to our understanding of the immune system as an intricate network of different cell types interacting and producing mediators to control their complex functions.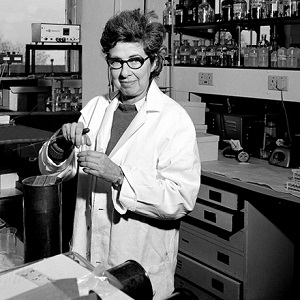 Ita did postgraduate work in the School of Biochemistry at the University of Cambridge and in 1952 moved to the National Institute for Medical Research.  She became Head of the Division of Immunology in 1976 and stayed at NIMR until 1988, when she retired.  She then made regular working visits to the Weatherall Institute of Molecular Medicine in Oxford and the Departments of Leucocyte Biology and Respiratory Medicine at Imperial College London.  Ita received many awards and marks of recognition, including election to the Fellowship of the Royal Society in 1973, and in 2007 the Robert Koch Gold Medal and election as a Foreign Associate of the United States National Academy of Sciences.
Ita died in January 2013, and left money in her will to fund the Ita Askonas Bursaries.  These are intended to allow postdoctoral researchers in the fields of infection and immunology to pursue specific research projects or networking opportunities at another institution, either to further their current research project, or to generate new areas of research.  The Bursaries are administered by the University of Cambridge, and are particularly intended to promote reciprocal interactions between Cambridge and the Francis Crick Institute Mill Hill Laboratory (previously known as NIMR) , and with the partners involved in the Francis Crick Institute.
Eligibility
Any postdoctoral researcher employed by the University working in the fields of infection and immunology shall be eligible for a grant from the Fund, but the Committee will give preference to early career researchers.
The expectation is that holders of an Ita Askonas Bursary will have identified collaborative opportunities themselves, will be responsible for driving the interactions, and will be alive to the possibility of using the results to support applications for additional support to further their career.
Applications Process
Details for the next round of applications will be available soon.
The Management Committee of the fund now invites applications for the next round of the bursary scheme
Applications for grants, accompanied by a short statement of the nature and purpose of the proposed activity, and enclosing a cv and publications list, should be submitted through the online application form.
Deadline for applications: 16 August 2016
-->
Any questions about the scheme should be directed to the Departmental Secretary (Academic Services), Department of Pathology, by email to academic.services@path.cam.ac.uk
Awards
The maximum amount in the fund is £300,000, so it is expected that individual awards will not usually exceed £5,000 - £10,000, depending on the case made.
Recipients of grants will be required to submit a claim for the expenses incurred, together with receipts, to the Department of Pathology, University of Cambridge, within 1 month of the activity for which the award is made.